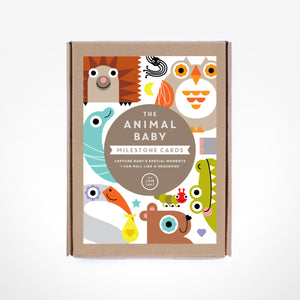 Capture special moments with our Baby Milestone Cards. When baby reaches a milestone, add the date to the card and capture the memory. Share the special moment with family and friends before storing your cards away in their keepsake box.
Card designs are inspired by our Animal Alphabet; 'Welcome to our ROAR-SOME world!', 'I can smile like a crocodile', 'I can roll like a hedgehog', 'I am cheeky like a monkey', 'I am cuddly like a bear'. The pack also celebrates baby's achievements, 'My 1st tooth' and age milestones, including weeks 1-3, months 1-11 and 1 year old… snappy birthday.
20 double-sided milestone cards with a durable finish and rounded corners making them perfect for little hands.
The perfect baby shower and new arrival gift.
Size dimension: A6 (105 x 148mm)