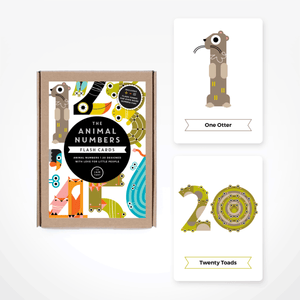 Enjoy counting the animals 'hidden' within each number 1-20. Card fronts feature a stylised animal number and supporting text for example 'One Otter'. Card backs feature both the numerical and written number in an easy to read font. Each pack also includes an 'add', 'take away' and 'equals' flash card, so you can have fun with numbers.
23 double-sided number flash cards with a durable finish and rounded corners making them perfect for little hands.
A wonderful learning resource and works equally well as 'interactive' room decor.
Packed beautifully in a keepsake box.
Size dimension: A6 (105 x 148mm)